Elvis Aaron Presley was born on January 8, 1935, in Tupelo, Mississippi, USA. He regarded as the most significant cultural icon of the 20th century to the "KING OF ROCK AND ROLL".
He began his music career in 1954, with Sam Philips. Soon with a successful series of television appearances and chart-topping record, he became the leading figure of newly famous sound of rock and roll. His full of energy songs and sexually proactive performances made him popular and controversial.
In 1958, he was drafted into military service. After two years of the services, he relaunched his recording career with his commercially successful work. He held very few concerts. But in the year of 1968, after a break of seven years from live performances, he returned to the stage with a tv show named Elvis, which led to a string of highly profitable tours. Presley is the bestselling solo artist in the world of music.
He was so talented that made him successful in genres like pop, country, blues, and gospel. He won three Grammys plus a presidential medal of freedom. After years of prescription drug abuse severely compromised his health, which might have caused his sudden death in 1977 in Graceland at the age of 42. The major reason for his death was heart attack due to his rapid ballooning weight.
While some fans gathered in Graceland to pay their last tributes to the king, maybe Presley is somewhere on the beaches of Bahamas, enjoying his retirement. People and theorists find the lack of straightforward answers for evidence as they believe that on the day of his death, there was something fishy going on with Elvis.
Flaw In The Reports
In the initial reports, it was claimed that the king died due to a heart attack of his excessive weight.
But later on, it was claimed by his personal doctor, Dr. George Mitropoulos, that his death was actually caused by constipation. But his stepbrother, David Stanley complicated the case and said that Presley took his own life. Therefore, the theorists never got the exact answer for the reason of Elvis's death.
The Mysterious Chopper
A mysterious chopper was hovering near the city in hours before the discovery of the dead body of Elvis.
Some claim it that it was seen landing in the King's estate. It might have been a government's helicopter, to help the king in his mission to disappear.
The Mystery Man
On the day after Elvis's death, a man named Jon Burrows was seen purchasing an air ticket from Memphis to Buenos Aires, Argentina.
This mystery man looked suspiciously like Elvis Presley, as he jets off on August 17. Also, as a matter of fact, Jon Burrows was a fake name used by him to book hotels whenever he needed to go incognito.
The Funeral
His funeral was very hastily arranged that is within two days after his death. This made the theorists believe that the arrangements were made before the faked death of the king. At the time of his funeral, only the close family members were allowed to see him.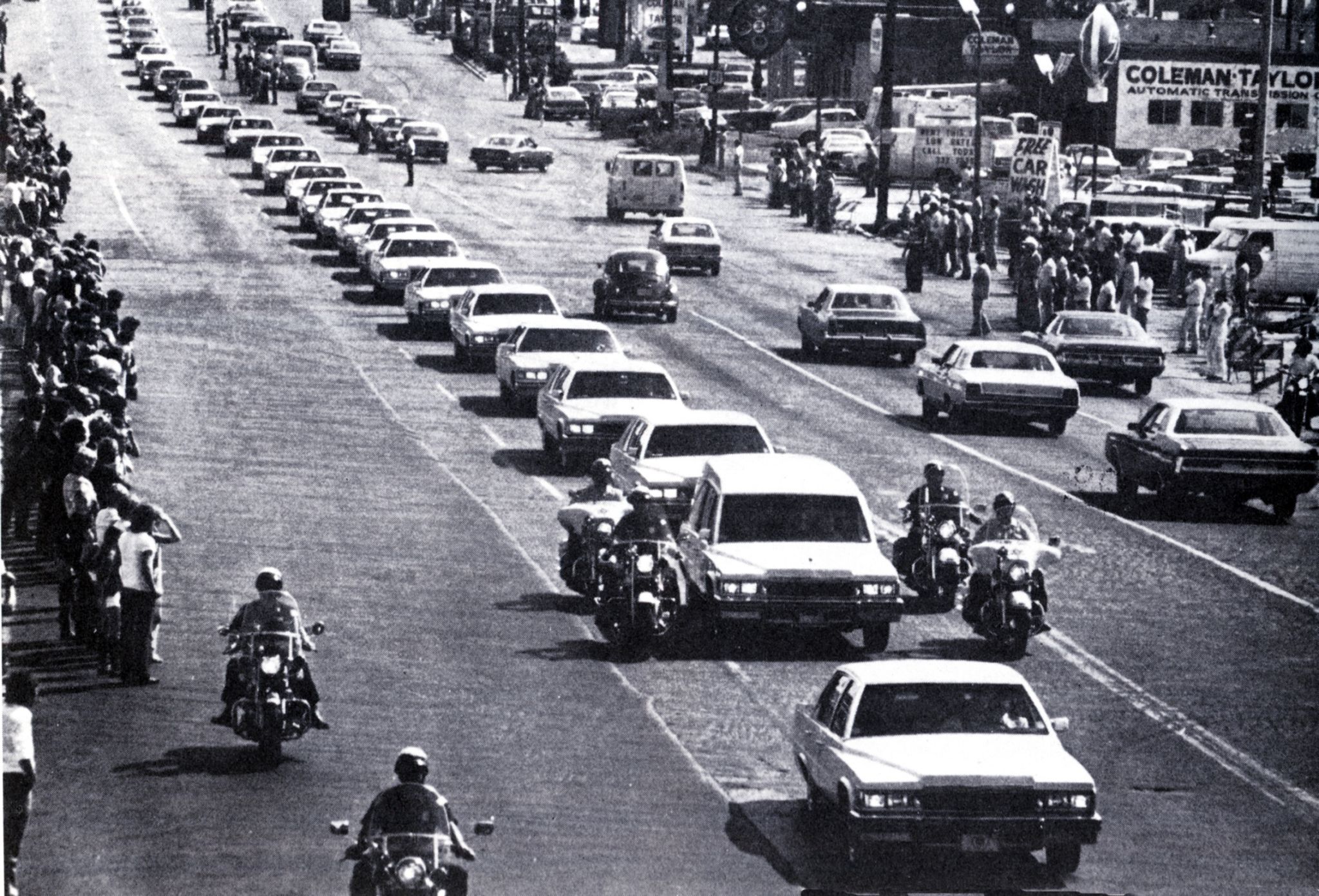 Out of the crowd of 30,000 people, none of them saw his body, but just a wooden piece of the coffin in closed one's hand. But pictures sneaked out which showed the young and handsome Elvis from 1957, instead of the fat bloke in 1977. This was legitimate of a wax figurine to be put on display, in order to convince the people that he is dead.
His records
Elvis's family wanted his son's autopsy report to be sealed for 50 years. Still, many people hope that the final secret of what happened to him lies in these documents. By the time it will be released in 2027, if Elvis is still out there, he is most likely to be dead.
Over the 40 years of his deaths, he has been spied countless times. Like for example, he appeared on his 82nd birthday celebration in Graceland. He was also seen taking pictures with Muhammad Ali in the year of 1984.
The only evidence we have right now is that too relying on the Autopsy documents.